One of the best things about the CVS Pregnancy Test is that it is cheaper than other brands but can give you the same amount of accuracy, if of course, you are close enough to your expected period. CVS does not boast that it will find out if you are pregnancy the earliest, but it does offer a cheap alternative to women who can wait.
Pros of CVS home pregnancy test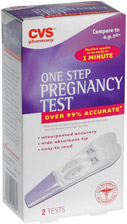 Some of the pros of the CVS Pregnancy Test are that it has a wider stick than most pregnancy tests, which does make it easier for you to use, and it seems to be very accurate within a day or two of your missed period.
Cons of CVS pregnancy test
One of the biggest cons that I can find about the CVS Pregnancy Test is that although it is an average pregnancy test that is very inexpensive, you can only find it at CVS Stores. This might not seem like a big deal because there seem to be a lot of CVS locations, but for some it might be hard to get to, or they only have limited options when it comes to shopping for pregnancy tests.
How to use CVS pregnancy test?
The CVS test is very easy to take. You first urinate in a cup, then put the drops of urine into the urine well.
Test shows one line for negative (NOT pregnant) and two lines for positive result (PREGNANT). Note: even if the second line is very faint it still means you are pregnant.
There is also a test area – if it turned pink it means you did the test correctly. Some women I have talked to reported getting false positives but it didn't happen to me so maybe it was just an coincidence.
Pros: Easy, cheaper than other tests but just as accurate
Cons: Can only find in CVS stores
Sensitivity: 50 mIU/hCG